Day 1 :
Keynote Forum
International Association for the Environmental Communication
Time : 08:00-08:30

Biography:
He graduated from the Faculty of Agriculture of the ' University of Turin in 1994. In 1996 he founded, together with other shareholders, the cooperative ERICA Soc. Coop. one of the first companies in Italy to deal with waste, both in terms of technical design and communication. By ERICA Soc. Coop. holds up to 1999 as a director only to become, in that same year, President and finally, in 2014, CEO. From 1997 to 1999 he was Minister for the Environment, Agriculture and Civil Protection of the City of Alba. In 2001 he was appointed an expert evaluator for the European Commission Directorate General Research. Since December 2002, he was appointed President of AICA (International Association for Environmental Communication). In June 2003 he joined the Board of Directors of ACR + (Association Cities and Regions for Recycling and Sustainable Management of Resources) of which he was elected vice president in November 2014. In that same year the Ministry of the Environment and the Sea appointment horse vice president of the Scientific Committee for the implementation and development of the National Plan for the Prevention of Waste in office until 2017 (Ministry of Environment, Land and Sea, the Ministry decree Gian Luca Galletti, n. 185 dell ' July 8, 2014)
Abstract:
Waste prevention, prepare for reuse and recycling are the three steps of European hierarchy of sustainable management of waste following European Directive 98/2008. Numerous local initiative demonstrate that the best performing results are obtains when different level of responsibility working together. The common interest is reduce the final disposal of unsorted urban waste, increasing quota of valuable waste and this is possible when the economical and financial streams are transparent and there is a direct influence of behaviour on tax. Different kinds of instruments are been developed during last year in order to calculate the quantity of urban (domestic and commercial) waste produced by the citizens. Best results are obtained through volume measure, using both bins and flexible bags. In village ore scattered area bags with bar code or other system of direct recognition could be best option in cost/benefit; in urban area, with important density population and commercial waste, RFID technology it seems to be best. The most frequent experiences in Italy and Europe are based on the volume of unsorted waste following the principle that more citizens use public services of collection more then pay, recent experience are computing also biowaste and packaging collection. PAYT schemes improve selective collection efficiency (i.e. low frequency, correct volume) reaching high percentage of selective collection, above 80%, with an excellent quality of materials collected (impurity less than 5%). PAYT introduce a high level of consciousness of citizens who change the buying behaviour, choosing product with less packaging, reusable, easy to separate, at the same time the shop improve their ecological offer. So PAY scheme is the best opportunity to create a relationship of mutual responsibility between the different actors of the municipal waste management.
Keynote Forum
Université de Bourgogne-Franche-Comté, FRANCE
Time : 08.30-09.00

Biography:
Sébastien Déon obtained his PhD degree from the University of South Brittany in 2007 on the modeling of transport through nanofiltration membranes. In 2008, he became Assistant Professor at the University of Franche-Comté where he has broadened his areas of expertise to electrokinetic characterizations of membrane materials and fouling cakes. Currently, he is Associate Professor and his skills are mainly dedicated to water treatment by membrane processes. He is also the author or coauthor of one book, twenty six publications in international recognized journals, and some twenty presentations in international conferences. His expertise in reviewing scientific papers led him to become Associate Editor of International Journal of Membrane Science & Technology, Academic Editor of International Journal of Chemical Engineering and an Editorial Board Member of four other peer-reviewed journals.
Abstract:
Nanofiltration can find applications in several environmental or industrial fields since its size and electrical properties make it perfectly suitable to remove small charged pollutants such as metal ions from contaminated effluents. In this context, a predictive tool could be a very useful for process development or optimization. Several approaches are available in literature but the coupling between equilibrium partitioning at the interfaces and the extended Nernst-Planck equation to describe transport within the pores is probably the most convenient approach to model multi-ionic separation. The major limitation for such a predictive model lies in the estimation of physical parameters. In this presentation, several ways developed to determine the input parameters are discussed to check if a fully predictive model is potentially achievable or if it remains a fanciful dream. The presentation will be mainly devoted to estimation of the membrane charge density (Xd) and the dielectric constant of the solution within pores (p), which are the two key parameters of the above-mentioned approach. Firstly, the outstanding predictions of filtration performances obtained with an original numerical procedure based on the simultaneous fitting of multi-component rejection curves will be highlighted. Then, various experimental methods developed recently to determine these physical parameters, such as streaming or membrane potential measurements or electrochemical impedance spectroscopy, will be also presented before discussing their respective advantages and drawbacks for predictive purposes.
Keynote Forum
Western University, Canada
Time : 08:00-08:30

Biography:
El Naggar is a Professor and Associate Dean of Engineering at Western University, Canada. He is Associate Editor of the Canadian Geotechnical Journal. He published 350 technical papers/book chapters on foundations, soil-structure interaction and geotechnical earthquake engineering; and consulted on major projects worldwide. He received numerous awards including: Stermac, Meyerhof, Canadian Geotechnical Colloquium Speaker, Western Faculty Scholar, Outstanding Teaching, and Research Excellence Awards. He was elected Fellow of Engineering Institute of Canada and the American Society for Civil Engineers. He also received the Ontario Professional Engineers Medal for Engineering Research & Development.
Abstract:
Oil sand drill cuttings waste is a major challenge for the oil sand mining sector. Many technologies have been developed to treat these cuttings and reduce the amount of waste to be landfilled. One of the recent technologies is Thermo-Mechanical Cuttings Cleaner (TCC), which separates water and oil from the solid waste1. The remaining part of the tailing is fine particles of mainly quartz crystals, which is referred herein as Treated Oil Sand Waste (TOSW). The present work offers innovative solutions for recycling TOSW in cementitious materials manufacture for geotechnical applications, and eventually other applications. The physical, chemical and mineralogical characteristics of the treated oil sand drill cuttings waste were investigated. Fresh and hardened properties for grouts2, concrete and controlled low strength material (CLSM)3 incorporating the treated oil sand drill cuttings waste were evaluated. The results showed that TOSW can be used as partial replacement of cement or sand, or full replacement of fly ash. For example, TOSW was used to replace up to 20% of cement in manufacture of grout used for constructing micropiles without adversely affecting the properties of the grout4. Similarly, TOSW can be incorporated in CLSM as a partial replacement of sand or full replacement of fly ash in CLSM to improve its important fresh properties such as flowability, while satisfying the density, strength and stiffness requirements for CLSM with no environmental hazards. Leaching tests evidenced the reduction in the release of heavy metals compared to that of raw waste indicating successful stabilization/solidification of such waste in the grout or CLSM. Furthermore, TOSW was incorporated into concrete mixture for continuous flight auger (CFA) piles as a partial replacement of up to 30% of natural sand5. It was demonstrated that concrete mixtures incorporating TOSW meet all the performance and environmental requirements of CFA concrete mixtures.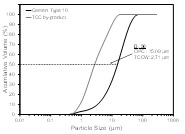 Track 1: Waste Management Techniques | Track 04: Waste Water Recycling | Track 10: Rubber Recycling | Track 15: Recycling Basics | Track 17: Textile Recycling