Day 2 :
Keynote Forum
Tokyo Institute of Technology, Japan
Time : 09:00-09:30

Biography:
Kunio Yoshikawa was born in 1953 in Tokyo, Japan. He is a professor of Tokyo Institute of Technology and an associate editor of Applied Energy. His bachelor, master and doctor degrees were awarded from Tokyo Institute of Technology. His major fields are energy conversion, waste management and environmental engineering. He has been working in Tokyo Institute of Technology for more than 38 years as a research associate, an associate professor and a professor. He has published nearly 200 journal papers with the major award of AIAA Best Paper Award, ASME James Harry Potter Gold Medal, JSME Environmental Technology Achievement Award and Best Educator Award of Tokyo Institute of Technology.
Abstract:
Up to now, the only commercialized ways of municipal solid waste (MSW) treatment are mass land-filling and mass burning. In Japan, most of burnable wastes are incinerated, but not in other countries, and still land-filling is the most popular way of waste treatment all over the world. But the world recent trend is to prohibit or limit land-filling of wastes while citizens do not want to increase waste incineration in developed countries as well as developing countries. On the other hand, major part of the world is discharging non-segregated municipal solid wastes. Thus we have to find out the utilization ways alternative to incineration for non-segregated MSW. Pre-treatment of wastes requires crushing, drying and deodorizing, which are normally different processes. But we have developed innovative hydrothermal treatment technology (HTT) which can perform these three pre-treatment functions in one process utilizing high pressure saturated steam. Figure 1 shows the operating principle of HTT. Non-segregated MSW are fed into the reactor, and then, 220℃, 2.5MPa saturated steam is supplied into the reactor for about 30 minutes and the blades installed inside the reactor rotates to mix MSW and steam for about 10 minutes. Then the product is discharged after extracting steam. The product is powder-like substance and the moisture content is almost the same as the raw material, but is easily dried by natural drying. The inert material such as metal, glass and stones can be easily sieved out after drying. There is almost no bad smell in the solid products, and the products can be used as solid fuels which can be easily mixed with coal for power generation or cement production. Only 10-15% of the product is enough for steam production in a boiler. HTT has already commercialized in Japan, China and Indonesia.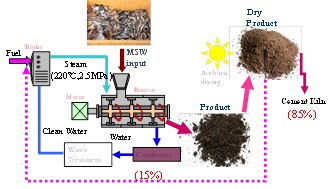 Keynote Forum
University Tun Hussein Onn Malaysia, Malaysia
Time : 09:30-10:00

Biography:
Aeslina Abdul Kadir was born in Batu Pahat, Johor, Malaysia, on 21st of July 1980. Graduated with B.Sc. with honours in Environmental Science at Universiti Kebangsaan Malaysia (UKM) in 2002 followed by M.Eng. in Civil Engineering at University Teknologi Malaysia (UTM) in 2004 and PhD in Civil Engineering at RMIT University, Melbourne, Australia (2010). Her expertise is in solid waste management and solid waste recycling into building material. She had published more than 50 publications including proceedings, journals, books and modules. In addition, her passion in research has enable her to secure almost 2 million worth of grants. Assoc. Prof. Dr. Aeslina binti Abdul Kadir also is a member of International Water Association (IWA), International Solid Waste Association (ISWA), Malaysian Society of Waste Management and Environment (MSWME), Malaysian Society for Engineering and Technology (mySET), Concrete Society of Malaysia (CSM) and Malaysian Research and Innovation Society (MyRIS).
Abstract:
Brick is one of the most common masonry units used as building material. Due to the demand, different types of waste have been investigated to be incorporated into fired clay brick for example sludge wastes, agricultural wastes, fly ash, fuel wastes and other wastes. Previous investigations have demonstrated positive effects on the physical and mechanical properties such as lightweight bricks with improved shrinkage, porosity and strength. However, reduced performances in number of cases were also demonstrated. In addition, the high temperature in the firing process allows volatilization of dangerous components through emissions, changes the chemical characteristics of the material and eliminates the toxic components through fixation process. Therefore, this alternative disposal method for the waste may provide sustainable method to immobilise toxic chemicals that pose a very high risk to the environment through either leaching or emissions as well as providing a new construction product with improved properties providing the mix is appropriately designed and prepared for the required properties.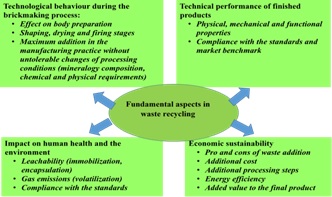 Keynote Forum
Tel-Hai College, Israel
Time : 10:00-10:30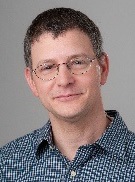 Biography:
Doron Lavee holds a PhD in Public Economics from the Ben-Gurion University, an MA in Economics and an MBA in Business Administration and Economics from the Hebrew University. He is a member of the Department of Economics and Management at Tel-Hai Academic College. He also serves as a Partner and General Manager of Pareto Group Ltd. He is a well-known expert with over 22 years of experience in economic and environmental consulting, financial advisory and strategic consulting in various fields, including issues related to economic efficiency and the periphery. He has extensive experience in managing complex projects and large-scale environmental economic consulting and conducting projects for the public and government sectors, including government ministries, local authorities, government corporations and public agencies.
Abstract:
Demand uncertainty may be a significant barrier for firms to enter the market. This study suggests that an establishment of a monopole which absorbs demand uncertainty by commitment to determine a long-term stable price may be efficient by reducing the uncertainty level. An economic model examines the social welfare consequences of establishing such a monopsony in the waste recycling market in Israel. The model provides a good description of many other markets with high entry cost and price volatility. The results show that an establishment of a monopsony in the waste recycling market could be an efficient process from a social welfare perspective (welfare increasing); this depends on the market's uncertainty level and the technological changes resulting from eliminating uncertainty. In the case study shown in Israel, creating a regulation that allows larger municipalities to sell the waste at competitive prices (international market prices) and allows small municipalities to recycle at a monopsony price, will lead to improved social welfare. The novelty of this study stems from the proof that a monopsony may increase the market size in markets with high levels of uncertainty, thus increasing the consumers benefit. A monopsony creates "certainty benefits" by reducing the risk premium arising from price fluctuations and the entrance of new players, and although it gains excessive profits, the benefit of reducing uncertainty may be greater than the loss of a monopolistic exploitation.